Ola Parks is the winner of 2020 Enterprising Women of the Year Award.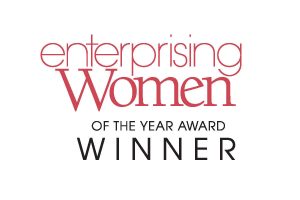 Be Real Company congratulates our own Ola Parks on becoming 2020s Enterprising Woman of the Year. This prestigious honor is awarded by Enterprising Women magazine, and for eighteen years it's paid annual tribute to the world's top women entrepreneurs.
Four years ago, Ola launched Be Real, a content creation and production company based out of Tribeca, New York City. During her tenure, the company (in partnership with Visionarists) has experienced double digit growth year after year, with a revenue over $1.5M in 2019.
Despite being an outsider to the production industry, when the opportunity to launch Be Real presented itself, Ola didn't hesitate. "The only thing I knew for sure was that I felt more alive when I was on set than anywhere else," she said.
Ola taught herself everything she knows on the job, and under her guidance as CEO and Executive Producer, Be Real experienced rapid growth, serving some of the greatest companies in the United States, including the Association of National Advertisers, Johnson & Johnson, The Women's Business Enterprise National Council (WBENC) and others, while expanding to ten employees within its first few years. Ola attributes her success to grit and perseverance. "Doubt kills more dreams than failure ever will," she says.
Enterprising Women CEO Monica Smiley describes the winners of the award as "CEOs of fast-growth companies, community leaders, and role models and mentors to other women and girls."
Like other winners before her, Ola is no stranger to mentorship. "I firmly believe in the slogan 'The Future Is Female' and I have been lucky to have a great many mentors, most of them being women," Ola says. Now, she mentors young female entrepreneurs as part of the Accelerator program, organized by the NYC Mayor's office of Media and Entertainment.
Ola and her fellow honorees will be recognized at the 18th Annual Enterprising Women of the Year Awards Celebration & Conference, to be held from Sunday, March 29 to Tuesday, March 31 at the Wyndham Grand in Clearwater Beach, Florida.